Introduction to Gas Trade
Index ……………………………………………………………………….
Ship types.....................................................................................................
The Elements (Periodic System)……………………………………….
Inorganic chemistry ……………………………………………………...
Organic Chemistry ……………………………………………………….
Alkanes ………………………………………………………………….....
Alkenes ………………………………………………………………….....
Alkalines .......................................................................................................
Alkynes ..........................................................................................................
Cyclic binding...............................................................................................
Polymerization..............................................................................................
Inhibitors – Stench Agents……………………………………………….
Ship Types
1. Fully pressurized ships - (no refrigeration)
2. Semi-pressurized ships - (semi-refrigerated)
3. Atmospheric pressure ships - (fully refrigerated)
Further, we divide ships into types according to what cargo they can carry:
1.

LPG-ship

(LPG/NH3)

(Atmospheric pressure/semi-pressurized/fully pressurized)

2.

LEG-ship

(LEG/LPG/NH3)

(Atmospheric pressure/semi-pressurized).

3.

LNG-ship

(LNG/LEG/LPG)

(Atmospheric pressure)

4.

Chlorine-ship

(Cl2)

(Fully pressurized)

5.

Combined gas/chemical ship

(LEG/LPG/NH3/chem..)

(Semi-pressurized)
The ships from groups 1 and 2 are usually described as LPG-ships. Construction wise these ships are very much alike. Simply there is a difference in the choice of materials, insulation and cooling systems. As a consequence LPG and LEG ships are treated as a group.
LPG gases are produced by the fractionating of natural gases, and are also extracted from crude oil as a byproduct of the distillation processes at oil refineries. Between 1% and 3% of the volume of crude oil consists of LPG. The term "LPG" is used in the oil industries' terminology for a number of hydrocarbons or mixtures of these, mainly propane and butane. This is a badly chosen expression, since each type of hydrocarbon (petroleum gas) can be in liquid form under the right conditions.
The American Petroleum Institute (API) defines LPG as one of the following hydrocarbons, or eventually a mixture of these gases:
· Propane
· Propylene
· Normal butane
· Iso-butane
· Butylenes
All of these gases have a boiling point of between 0 Deg. Celsius and -50Deg Celsius at atmospheric conditions. The boiling point of LPG is essentially higher than that of LEG and LNG. LPG has also a higher density and, therefore, demands a stronger cargo tank.
LPG is commonly used as a raw material in the petro chemical industry and also for energy purposes such as fuel, heating, lighting etc.
LEG is the abbreviated symbol used to denote condensed ethylene gas. Ethylene is not found naturally, but is a semi-manufactured product produced from oil, wet gas, or from the gases ethane or propane. The boiling point of ethylene is -104
0
C.
Ethylene is a raw material which is used in the production of a great many products. For example: plastics, food colorings, polyethylene foam, styrene, and also for welding and cutting of metals.
Transport of condensed gases by gas ships can be divided into six groups:
| | | |
| --- | --- | --- |
| 1. | LPG | Liquefied Petroleum Gas |
| 2. | NGL | Natural Gas Liquids |
| 3. | LEG | Liquefied Ethylene Gas |
| 4. | LNG | Liquefied Natural Gas |
| 5. | Ammonia (NH3) | |
| 6. | Chlorine (Cl2) | |
NLG (Natural Gas Liquids)
NGL, or wet gas, is the name used to denote the gases which are found dissolved in crude oil. During the separation of crude oil a mixture of gases is released, consisting of ethane, propane and butane, together with heavier hydrocarbons. The composition of this gas varies from one oil field to another.
This wet gas is used, amongst other things, in the production of ethylene in the petrochemical industry. (Nordsø-suppe)
LNG (Liquefied Natural Gas)
LNG, or natural gas, is a mixture of gases which is found in the earth in the same way as oil. LNG consists mainly of methane which is the lightest of the hydrocarbons. Also, LNG contains smaller quantities of, amongst other things, ethane, propane and butane. At atmospheric pressure, natural gas has a boiling point of approximately -1600C, and is mainly used for energy purposes as a substitute for coal and oil.
A certain amount of natural gas is also used in the production of ammonia and fertilizers for agricultural purposes.
Ammonia has a boiling point of -330C at atmospheric pressure, and is the combustion product of oil and gas. Ammonia can also be produced from natural gases with the use of a catalyzing process.
The principal use of ammonia is as a raw material in the fertilizer industry, and also in the productions of plastics, explosives, dyes and cleaning fluids.
Chlorine has a boiling point of -340C at atmospheric pressure. Chlorine cannot be found naturally, but can be produced, for example, by electrolysis of a sodium chloride solution (salt). Chlorine gas is used in the production of various chemicals and as a bleaching agent in the paper and cellulose industries.
In addition to the gases which are mentioned here, we have a number of products from the chemical industry which fall under the definition of gas, and can be transported by gas ships. These gases do not belong to any of the afore-mentioned group headings, and can be gases such as vinyl chloride (VCM), propadiene and butadiene, for instance.
The periodic table is built on the principle that the electrons in the outer shell determine the chemical properties of a material.
An atom consists of protons, electrons and neutrons, and can have a maximum of 8 electrons in the outer electron shell. There are just as many protons as there are electrons in an atomic element. Meanwhile, the number of neutrons can vary.
All the way to the right of the periodic table we find the noble gases. Noble gases occur only in atomic form.
Organic and Inorganic Chemistry
Inorganic chemistry
deals with all chemistry except that for the carbon atom. Besides carbon, the elements consist of 102 other known materials. These are arranged in the periodic table.
The main parts of the inorganic elements are metals. They form metallic bonds where the atoms are packed closely together.
Organic Chemistry:
Hydrocarbon is a name which all the chemical combinations between the elements hydrogen and carbon have in common. Crude oil is an almost exclusive mixture of hydrocarbons. The simplest form of hydrocarbon is methane which is the main component of natural gas. One carbon atom is bonded with four hydrogen atoms to form a molecule (hydrocarbon)
Ch4
In all bonds between Carbon and Hydrogen the Carbon atom behaves as though it has four arms and the Hydrogen atom behaves as though it has one "arm". Each "arm" on the Carbon atom must be connected to either a Hydrogen atom or another Carbon atom.
There are countless numbers of dissimilar components of carbon and hydrogen. To ease the viewing of these dissimilar components, they have been separated into groups according to their similarities.
These groups are:
1. Alkanes (paraffins)
2. Alkenes (olefins)
3. Alkalines (di-olefins)
4. Alkynes (acetylides)
5. Cyclonic bonding
In the following you will see products which we transport most commonly - marked by color as per below.
Alkanes are molecules which have only one bond between the elements.
The simplest form of Alkane is: Methane
'
Methane: CH4 Ethane: C2H6 Propane: C3H8 N-Butane: C4H10
CH3 – CH3 CH3 – CH2 – CH3 CH3 - CH2 - CH2 - CH3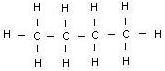 '
Iso – Butane: C4H10
CH3 - CH (CH3) – CH3
'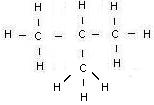 Even though the two butane molecules which are shown have the same number of Carbon and hydrogen atoms, they have different densities, boiling points etc. This is what is called isometric bonds. As the number of Carbon atoms increases, the number of different bonding which are possible between the atoms increases. With 5 Carbon atoms there are 3 different Alkanes (isometrics). As the number increases to 7 carbon atoms there are 9 different isometric alkanes.
'
NAMES AND DATA FOR SOME ALKANES
Melting point

Deg. Celsius

Boiling point

Deg. Celsius

Methane

CH4

- 183

- 162

0

Ethane

C2H6

- 172

- 89

0

Gas at

Propane

C3H8

- 187

- 42

0

Room

n-butane

C4H10

- 135

0

2

Temperature

(iso-butane)

C4H10

- 145

- 10

n-pentane

C5H12

- 131

+ 36

3

Liquid

n-hexane

C6H14

- 95

+ 69

5

at

n-heptane

C7H16

- 90

+ 98

9

Room

n-octane

C8H18

- 57

+ 126

18

Temperature

n-nonane

C9H20

- 51

+ 150

35

n-decane

C10H22

- 30

+ 174

75
Another important group of hydrocarbons, which are not found in crude oil, but are produced during the `cracking' process, are called alkenes or olefines.
The simplest form of alkene is: Ethylene
Ethylene: C2H4 Propylene: C3H6 1 (a) Butylene: C4H8 Cis 2 (b) Bytylene: C4H8
CH2 : CH2 CH2 : CH – CH3 CH3 – CH2 - CH : CH2 CH3 – CH : CH – CH3




'
Trans - 2 (b) Butylene: C4H8 Iso (y) Butylene: C4H8
CH3 – CH : CH – CH3 CH2 : C (CH3)2


'
NAMES AND DATA FOR SOME ALKENES
Melting point

Deg. Celsius

Boiling point

Deg. Celsius

Ethene
(ethylene)

C2H4

- 169

- 104

none

Propene
(propylene)

C3H6

- 185

- 48

none

1-Butene
(a-butylene)

C4H8

- 185,4

- 6,3

4

Cis-2-Butene
(b-butylene)

C4H8

- 138,9

+ 3,7

4

Trans-2-Butene
(b-butylene)

C4H8

- 105,6

+ 0,9

4

Iso-Butene
(y-butylene)

C4H8

- 140,4

+ 6,9

4

Pentene

C5H10

- 138

+ 29

6
Because of double bonds the alkenes can take up several hydrogen atoms and, therefore, they may react to be alkanes. They are, therefore, called unsaturated bonds.
Alkaline contain two double bonds in their molecules, and the most common out of these groups are mentioned below:
Propadiene: C3H4 1, 3 - Butadiene: C4H6
CH2 : C : Ch2 CH2 : CH – CH : CH2


Butadiene has technical significance as the base material for the production of synthetic cat gut (rubber).
Melting point

Deg. Celsius

Boiling point

Deg. Celsius

Propadiene

C3H4

- 146

- 2

none

1,3-Butadiene

C4H6

- 108,9

- 4,4
The alkynes have the same general formula as the alkaline, CnH2n_2 but contain a triple bond instead of two double bonds.
The first link in the chain is acetylene.
Acetylene C2H2 Allyene C3H4


Name Formula Melting point _C Boiling point _C No. of isometrics
Etyne
(Acetylene) C2H2 - 82 subl. None
Propyne
(Allyene) C3H4 - 103 - 23 None
Butyne C4H6 - 122 + 8, 7 2
Pentyne C5H8 - 90 + 39 3
When the carbon chain consists of three or more carbon atoms it can form ring bonds. These are called cyclic bonds. Example is Cyclohexane.
Saturated cyclonic hydrocarbons are called cyclo alkanes or naphtene.
Another major part of the cyclonic bonds constitutes the so-called aromatic bond or benzene derivatives. Benzene is a major cyclonic bond.
Cyclohexane C6H12 Benzene C6H6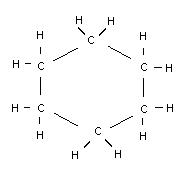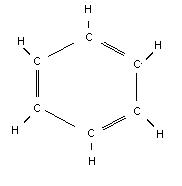 Polymerization (Catalysts)
A special property of the unsaturated bonding is that they can, under certain conditions, polymerize (react with each other to form very large molecules, macro molecules).
Example: Ethylene

We call this type of polymerization, addition polymerization. A number of common plastics are produced like this. The number of monomers can be many thousands.
Polyvinyl monomer polymer
Chloride (PVC): (CH2=CHC1) _(CH2CHCl)n_
Polypropylene (CH3 - CH : CH2) _(CHCH3_CH2)n_
Polystyrene (CH2=C6H) _(CHC6H5_CH2)n_
To prevent the formation of peroxides with unsaturated bonding such as in 1, 3-butadiene, ethylene, VCM etc, it is necessary to have as low an oxygen content as possible in the pipes and tanks. We have seen that peroxides are used as polymerization catalysts, and we know that most of the unsaturated bonding themselves form peroxides with the oxygen. There is often a max. limit (before loading) of 0, 3 vol% of O2 in the atmosphere of the tank.
The products themselves have a limit of around 5 vol. ppm O2
To get rid of the last traces of oxygen, one uses materials which, even in low concentrations, react freely with oxygen. These materials are called inhibitors. Another property of some of these materials is that they can react with radicals so that the speed of polymerization can be slowed down or stopped.
During transport of 1,3-butadiene to the USA, the US Coast Guard demands that the cargo is inhibited with 100 ppm of TBC (tertiary butyl catechol). This is to hinder any polymerization and developments of strong heat. TBC hinders the formation of peroxides. VCM, which is transported over several days, has added about 5 ppm of hydroquinone to prevent any polymerization of the cargo into PVC.
Most of the inhibitors are highly poisonous and dangerous to our health, and must, therefore, be handled with the utmost care.
Due to many of the gases being highly flammable and explosive, it is very important that any small leaks can be discovered as soon as possible. Therefore, in some cases a material is added to the LPG, for example mercaptane. These materials have a very intense smell (like rotten eggs) even in very low concentrations such as only a few ppm (grams/tons) -